Captain Kicks was born in 2021 when all great companies were born….In the middle of a Pandemic! With so much uncertainty in life for everyone and especially in children's enrichment programs, we knew there was an opportunity and a need to return to some normalcy. We decided to take the leap and Captain Kicks hasn't looked back since.
Captain Kicks was founded by industry veterans with a combined experience of over 30 years in the LA afterschool space and soccer arena. Captain Kicks focuses on creating a fun, non-competitive environment for kids aged 2-10 through the game of soccer.
Our programs start with fun games and warm-ups. And finish with stickers and a high five! All classes get kids moving, exercising, learning new skills, and building confidence with our awesome coaches.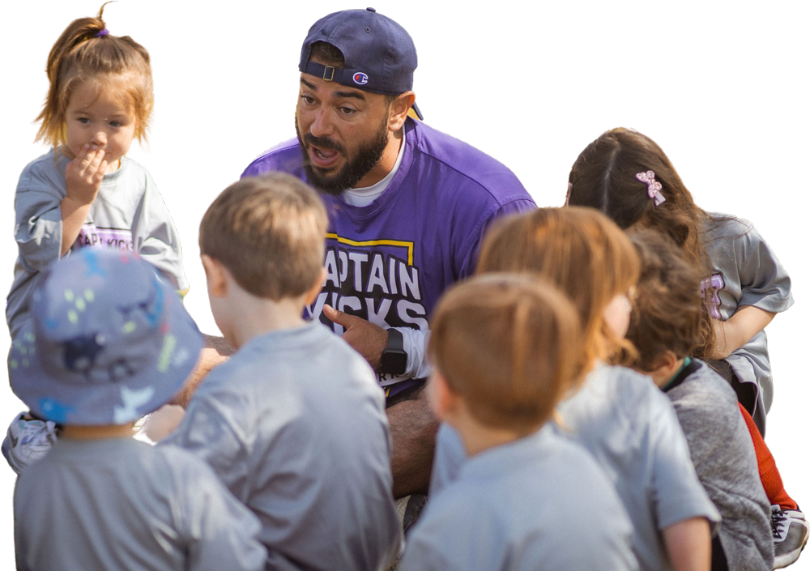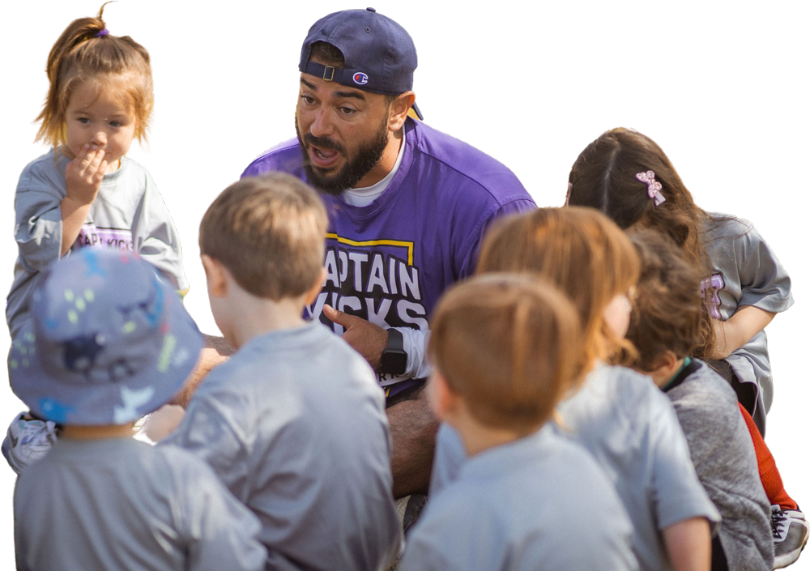 - Lauren B.
"We LOVE Captain Kicks! My 2 year old daughter takes classes at Rancho Park on Sundays and it's what we look forward to every weekend. The coaches are so kind and patient and make it so fun. We've been doing it since last Fall and we've definitely seen our daughter gain some soccer skills too! We've met other nice families on our team and Zach the owner couldn't be nicer and more communicative. Best soccer program in Los Angeles!"
- Kirk O'The Valley director
"Just wanted to mention how great the soccer activity was yesterday. I think that's the same crew we use during the year. With the toddlers they were really really great. Those two guys kept the group engaged for about 40 minutes. That's a minor miracle. I told them that they were really really good with that age group and thanked them."
- Justin T.
"I just wanted to say thank you. My fiancé was outside of the school. And he was so happy you were so patient and understanding with Nelson. So I am just thanking you for all you do."
- Amy W.
"I just wanted to send a BIG THANK YOU! My son has had some challenging behaviors in the past with other sport type classes he has taken. But the Coach has been amazing with him! My son comes home every Monday so excited about soccer. He even tries to sleep in his school t-shirt because he doesn't want to take off the sticker he earned!"
- Greenwood Ave KinderCare director
"Our kiddos and families really are enjoying soccer! We are thrilled to have Captain Kicks be a part of our program!"
- Emma W.
"We have sent our kids to Captain Kicks soccer classes and used them to host a birthday party! They do a truly fantastic time engaging the kids in a collaborative, fun, and memorable way. Highly recommend both their classes and their birthday parties!"
- Alicia S.
"Thank you so much for being so amazing to Sedona! We will be moving and our last day is 9/23 with the school. Your program has been a game changer and has had such a positive impact on Sedona I'm forever grateful."